About Mauritius
Mauritius, known officially as the Republic of Mauritius an Indian Ocean island nation which is located off the southeast coast of the African continent. It is also known for its beaches, lagoons and reefs, the mountainous interior includes Black River Gorges National Park, with rainforests, waterfalls, hiking trails and wildlife like the flying fox. Capital Port Louis has sites such as the Champs de Mars horse track, Eureka plantation house and 18th-century Sir Seewoosagur Ramgoolam Botanical Gardens ,. It is a volcanic island of lagoons and palm-fringed beaches with coral reefs surrounding most of the coastline. 
The island is situated approximately 2400 kilometers off the South East Coast of Africa. The island covers an area of 1,865 square kilometers or 720 square miles, with 330 kilometers of coastline. Mauritius is 45km in width and 65km in length.
Mauritius is a densely populated island of around 1.3 million people. It has a reputation for stability and racial harmony among its mixed population. Mauritius is known as a plural society where all the ethnic groups present: Hindus, Muslims, Creoles, Chinese and Europeans live in peace and where all the ancestral cultures have been preserved. These features make the island a unique place in the world, and the Mauritians known for their tolerance and kindness towards all people.
Most Mauritians are bilingual being equally fluent in French and English. English is the official language, but French and Creole are widely spoken. Oriental languages also form part of the linguistic mosaic.
Mauritius has preserved its image as one of Africa's few social and economic success stories, being a sugar and clothing exporter and a center for up market tourism.
---
The island of Mauritius itself is divided into nine districts:
Black River
Flacq
Grand Port
Moka
Pamplemousses
Plaines Wilhems
Port Louis (Capital of Mauritius)
Rivière du Rempart
Savanne
---

Mauritius was first discovered by the Arabs as early as in the 10th century, but officially explored by the Portuguese in the 16th century and subsequently settled by the Dutch in the 17th century. The Dutch were the ones who named the island in honor of Prince Maurits van NASSAU.
Mauritius was occupied successively by the Dutch (1598-1712) and later by the French (1715-1810).
The French assumed control in 1715, developing the island into an important naval base overseeing the Indian Ocean trade, and establishing a plantation economy of sugar cane.
The British captured the island in 1810, during the Napoleonic Wars through the Treaty of Paris. Mauritius remained a strategically important British naval base, and later on, an air station playing an important role during World War II for anti-submarine and convoy operations, as well as the collection of signals intelligence. On 12 March 1968, Mauritius became Independent.
---
Mauritius Things to Do
Mauritius has earned the reputation of a top holiday destination, but only few of the island visitors know that Mauritius is one of the leading destinations in the world while referring to the large variety of the activities it offers in comparison to its size.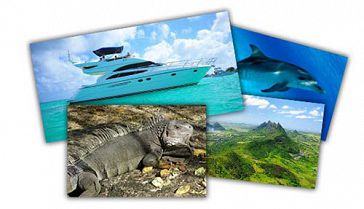 When visiting Mauritius you are sure to benefit from an amazing selection of almost 200 activities, attractions and places of interested all waiting to discovered.
From more traditional museums, parks and reserves, to extreme activities, sea cruises, island trips and many more, you will find it all!
So make sure to discover the real Mauritius to the fullest via the various fun and exciting activities it offers!
Additional facts on Mauritius Island
Culture
Due to the diversity of cultures in Mauritius, a number of colourful festivals and ceremonies take place every year. In January or February the Tamil penitents, while celebrating Cavadee, pierce themselves through their cheeks, tongues and backs with long skewers while walking on nail shoes. At the same time they carry images of deities. In February or March the Hindus make a pilgrimage to Lake Grand Bassin in honour of Lord Shiva as they take part in the Maha Shivaratree festival. The Muslim, Christian and Chinese celebrations include Eid-Ul-Fitr (Muslim), Christmas (Christians) and the Spring Festival (Chinese).
Religion
Hindu,Christian, Muslim faiths are all prevalent on the island, as well as old Chinese customs
Water and electricity
It is wise to stick to bottled water for drinking purposes.
The electrical supply is 220V AC, 50Hz. The plugs used in most hotels are three-pin, although two-pin plugs are also used.
Traditional foods
The local people generally eat spicy food - curry is very popular, served with rice or roti (a flat Indian bread). Hotels and restaurants offer a range of foods including Chinese, Indian and Creole. European style food is available and seafood is a speciality in many places.
Accommodation
The range of accommodation in Mauritius is vast, and covers self-catering (camping on public beaches is not encouraged) through to some of the finest beachfront hotels in the world. The busiest times are December, January, July and August so a premium is likely to be added to the normal rates.You can find more details on the following website
https://www.mauritiusbookings.com/ 
Internal transport
The island's only port is Port Louis. There is no railway service but the 1 800 km-road network is good, as are the taxi and bus services. Those wishing to hire a car will need a valid international driver's license. Taxis are available at reasonable rates. One can go just about anywhere on the island by making use of the bus services that operate in separate regions.
Air Mauritius runs daily flights from the main island to Rodrigues Island and back.
Safety
The island is a peaceful place, but, as with many international tourist destinations, caution should be exercised with valuables and normal safety precautions should be taken.
What to buy
Take your pick - packets of Mauritian spice, ship models, miniature dodos in copper or wood, Mauritian recipe books, Sega music CD/DVDs, miniatures of island rum, anthurium flowers, Mauritian tea, T-shirts, shells (make sure you get a Clearance Certificate), Indian fabrics, basket work, quilts, hand-embroidered table cloths, pottery, casual wear and pareos. Knitwear and beachwear can be purchased at factory prices and duty free shopping includes designerwear, diamonds and gold jewellery.
Business hours
Generally from 9am to 4pm from Mondays to Fridays and from
9am to 12pm
on Thursdays and Sundays. 
Because it is a free port, Mauritius has a number of commercial, development and offshore banks in addition to the central banks.
GETTING THERE (VISITORS GATE)
Air connectivity 
Mauritius is well serviced by a number of main airlines. Air Mauritius has weekly flights to and from many European cities as well as to and from the major African cities including Antananarivo, Cape Town, Durban, Maputo, Harare, Johannesburg, and Nairobi. In addition, there are flights to and from Bombay, Delhi, Chennai, Hong Kong, Jakarta, Kuala Lumpur, Melbourne, Perth and Singapore. British Airways, Air France, Singapore Airlines and South African Airways operate weekly flights. A prime destination, Mauritius is only some 12 hours flight from Europe and about 4.5 hours from Johannesburg, South Africa.
Entry requirements
A valid passport and a return or onward ticket is a must for travellers entering Mauritius. Visas are not required by those from a Commonwealth country, Japan, South Africa, the USA, the EU and the Scandinavian countries. Those that do require a visa can usually obtain one for three months, and they are renewable on request. Mauritian Embassies and High Commissions issue visas free of charge. Passengers in transit require no visas but they must continue their journey within 72 hours of checking in.Tourists from 21 different countries require a visa to enter Mauritius prior to embarking on the plane.
Health
An international vaccination certificate against yellow fever is required if visitors are from an infected area. More details on entry requirements can be obtained from the health office in Port Louis on the following website
http://health.govmu.org/
. While there is a small risk of contracting malaria, it is exclusively the benign form (phalcipirum vivax) that exists throughout the year in some areas.
Currency
The unit of currency is the Mauritian Rupee (MRs), which is made up of 100 cents. Travellers cheques can be exchanged at hotels, banks and authorised dealers in foreign currency. Travellers cheques in Pounds Sterling and Euros are preferred. Major credit cards are accepted throughout the island, such as Visa, Access MasterCard, American Express and Diners Club.
These rates are indicative and are subject to daily fluctuations.
1 US Dollar -               34 MUR
1 Pound Sterling -        44 MUR
1 Euro -                      38 MUR
1 South African Rand   2.10 MUR
Clothing
Tropical clothing such as light weight cotton or linen suits, dresses or short-sleaved clothes are most suitable.Otherwise, dress is casual although most hotels do not allow guests to wear shorts or T-shirts in the restaurants or bars in the evenings. Between June and October, a jacket or tracksuit top is recommended. Dress appropriately when visiting religious shrines and remove shoes when entering mosques and temples.
Weather and Climate
Emergency numbers
Police : 999 / 112
Ambulance : 999 / 114
Fire : 995 / 115
Information : 150 /152
Tipping
Tipping is not compulsory in Mauritius but if you have appreciate your driver or resort service,it is acceptable
Time
Mauritius is four hours ahead of Greenwich Mean Time and three hours ahead of mid-European Time (2 hours difference during the winter time, and 4 hours difference during the summer time).
Telecommunications
Mauritius has international direct dialing facilities to most parts of the world as well as high speed fax and Internet services.
Driving
Driving is on the left, with priority to the right.
Electricity
International Country Calling code - Mauritius
The country telephone code is +230 and there are no area codes. Public telephone booths can be found at the airport and larger hotels. Fax facilities are available at most hotels. E-communication is also available.